By 
Professor Martin H Johnson
  •  Professor of Reproductive Sciences, University of Cambridge   •   Appeared in BioNews 
700
Bob was born in 1925 into a working class home in the Yorkshire mill town of Batley. His father laboured on the Settle to Carlisle railway, while his mother was a machinist in a local mill. He was one of three bright boys, who, on relocation of the family to Manchester from where his mother originated, all obtained scholarships to attend the Central Boys' High School. On leaving school in 1943, Bob's education was interrupted by conscription into the war army – mostly served in Palestine – so after being de-mobbed in 1948, Bob was already a mature student when he read Agricultural Science at the University College of North Wales at Bangor. Disillusioned with the course, which he found was devoid of scientific rigour, he switched to Zoology after two years, but was devastated to obtain only a pass degree.
In 1968, he forged a key partnership with Oldham gynaecologist and pioneer of keyhole surgery, Patrick Steptoe, and together these two pioneers, with Jean Purdy (their nurse-technician) and their patients proceeded to achieve IVF, resulting in the birth of Louise Joy Brown on 25 July 1978. They faced obstacles that would have deterred a less determined pair, for, not only was the work demanding clinically and scientifically, but they were given no financial support from UK funding bodies, and were regularly attacked not just by religious leaders and the press but also by most of their scientific and clinical colleagues. I well remember as a graduate student being ostracised at meetings and in the departmental tearoom for my association with Bob! Louise Brown's arrival marked the beginning of a positive change, albeit a slow one, in attitude to Bob and Patrick's work.
Nowadays, IVF and related forms of assisted conception in vitro, are so commonplace as to hardly raise comment in most quarters. At last, Bob's genius was finally recognised internationally in 2010 by the award of the Nobel Prize in Physiology or Medicine. This prize is most commonly shared and is not infrequently contentious. Neither of these qualifications applied to Bob's award, by which time well over four and a half million babies had been born as a result of his pioneering work. The only sad note is that this ultimate recognition of the value of his work was not made earlier when Patrick was alive to share it and Bob was in good enough health to collect it personally in Stockholm.
Energetic pioneer of IVF whose work led to the birth of the first 'test-tube baby' in 1978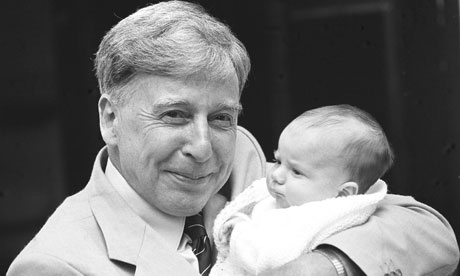 Robert Edwards in 1990 with the 2,500th IVF baby. Photograph: Rebecca Naden/PA Archive • Robert Geoffrey Edwards, physiologist, born 27 September 1925; died 10 April 2013